We are pleased to announce that five of our sponsors will be giving away
free class seats
at 2009 BC Scrapbooking Crop for Kids. We'll post all the info on the giveaways as it becomes available.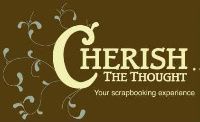 Cherish The Thought
has a really fun promotion to give away the class seats!! Here's the scoop:
Port Moody's Next Top Paper Crafter ~ coming soon…
You know how we like to name all our promotions after TV Shows, well, with National Scrapbooking Day coming up on May 2, what better way to start the festivities than to offer a really cool contest with a fantastic prize!
The contest will run for 4 weeks starting on May 2 and will have an entrance fee of $20. This fee includes the 4 goodie bags that you will receive over the course of the promotion and a chance to win 1 of 3 fantabulous prizes. More details to follow, but the Grand prize is a Class Pass at the BC Crop for Kids (a $75 value) in October, and will include the following:
The winner will receive "Class Pass Status" (this is a $29 value) and includes the following benefits:


three free class seats in the classes of your choice and if you would like to register for additional classes you will receive access to online class registration when it opens to registered event attendees and other class pass holders.


buffet lunch on Saturday and continental buffet breakfast on Sunday.


access to coffee, tea & water all weekend long.


a special "Class Pass" welcome gift bag


the winner will have the opportunity to register for their free classes prior to the start of class registration.

The free class seats are not transferable to any other parties.
The concept is that you will receive a goodie bag on the Saturday of each week, with instructions on the theme of the paper craft challenge (this could be a card, a layout or a 3D project, it's all up to you). The entries would have to be in by the following Friday so our panel of judges can decide the points. At the end of the 4 weeks, the paper crafter with the most points will win!
Simple as that! Points will be awarded for creativity, use of product, and overall design effect. Please note that we will need at least 3 entrants to begin this contest.
Are you Port Moody's Next Top Paper Crafter…?